Stefano Rossignoli - Resume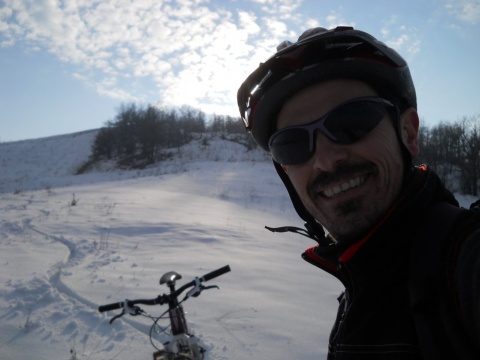 Birthday: December 27 1973
Adress: Via Garibaldi n°16
20083 Gaggiano
Milano
ITALY

Education

December 2001
College/University: Università degli Studi di Milano (University of Milan) Master of Natural Science.
Final grade: 98/110.
Additional studies: Vertebrate Paleontology, Stratigraphy.

Dissertation defense: Rearranged fossils. Teeth of triassic fishes and quaternary sediments of caves.
Advisor: Dr Andrea Tintori.

High school: Industrial and Mechanical technical institute 1992.

European driver license.
I'm very good road and off-road driver.

Contact me: mail@stefanorossignoli.com

Some picture of my works on http://paleoitalia.org/places/2/grignone/
Video on Vimeo made by Stefano Dominici "two fishes in one" http://vimeo.com/27987099

http://users.unimi.it/vertpal/italiano/preparazione.html

...and some picture of me and my friends: http://www.stefanorossignoli.com/english/gallery_engl.html

Work Experience

I enjoyed fossil preparation using stereoscopic binocular microscope in 2000.
I work on micro and macro fossils of Vertebrate non-Dinosaurs for Heart Science Department in Milan (Italy).

2000/2001
Manual and Chemical preparation with CH3COOH and H2O2 on some specimen of Paralepidotus ornatus.
Preparation of teeth and faringeal-teeth for photography at SEM.

I began (until now) activity like guide for tourists and schools of all ages and background in a cave of the Alps and in the paleontological rooms of Natural History Museum of Milan.

2002/2003
Excavation in cave on Monte Generoso (Italy) searching for and preparing quaternary fossils of Ursus spelaeus (Cave bear) and piking of sediments to search for teeth and bones of micro-mammals for paleoenvironmental reconstruction.

2004-2008
Excavation in Ladinian limestone (Buchenstein formation) of Grigna Settentrionale (Italy), with students of Natural and Geological science. I provide instruction to them about fossil research and preparation.
I prepared many Ladinian fossils at binocular microscope using different size of jackhammers (microjack 2/4 by paleotools), other pneumatic tools, sometimes chemical preparation and finishing by hand with needles.
- two specimens of big Saurichthys (width= 4.5 feet) in 1200 ours.
- many specimens of Ctenognatichthys bellotti.
- two small Coelacantidae.

2007/2009
I searched for fossils yet in Grigna Settentrionale and I replicated with casting and molding techniques many specimens of Reptiles and Fishes for museums and exhibits.

I like paint copies very well!
http://www.stefanorossignoli.com/gallery_files/calchi_story/031-S7302652.JPG.html

Fossils preparation 2009:
- 2 new speciments of fish from ladinian rocks
- some part of different fishes (Saurichthys, Ctenognatichthys...)
- The most beautifull Ctenognatychthys from Grigna Settentrionale
- 4 hinges of pliocenic bivalves (one of my best preparation of ever)

Fossil preparation 2010:
- Restoration of Mene Rombea from eocene - Bolca
- Polzbergia sp. (Width= 2") ...very difficult!!!

2011 - 2013
Preparation of Poltzbergia sp from Natural history Museum of Udine (Italy) I took fossils inventory for two small but important museums on Italian Alps Exploring, searching, preparing, casting and molding are every day a new problem to solve and I like it!

Languages

Italian (native language).
English (beginner/intermediate ...but I'm studying...).

Computer

Operation systems: Linux Ubuntu, windows.
HTML, XHTML and CSS (intermediate)
Open office, Office, Photoshop, GIMP... (intermediate)
Some audio&video application

Volunter, service and other Activities

I give blood with AVIS (Association volunteers Italian blood) and I am receptionist for volunteers.
The same association organizes every march a running race with 5000 runners and I am responsible of the routes.

I am rock climbing instructor of Italian Alpin Club in Corsico (Milano – Italy).

I play piano, guitar and compose songs that I sing and play alone or with my band. I am a beginner with drums.

I love Running , Marathon, Mountain biking, many sports...

I have two web-sites http://www.stefanorossignoli.com and http://www.scienzafacile.it made by myself.
In the first I write about to my hobbies. The second is a site of science popularization for Italian people.